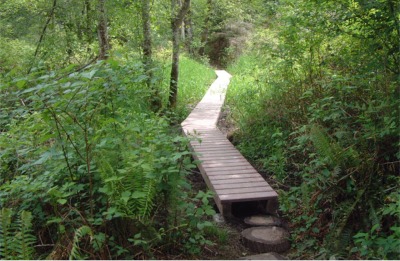 The Fox Island Nature Center
2004 marked the beginning of a new era in recreational opportunities for the Fox Island Community & Recreation Association (FICRA), with the acquisition of 5 acres of wetland and rainforest property now known as the Fox Island Nature Center and wildlife preserve.

Located at 716 9th Ave. Fox Island, this property was purchased with donations from Fox Island residents, and was developed by various Boy Scout, Girl Scout and Cub Scout volunteers under the leadership of FICRA President John Ohlson. Featuring 5 acres of hiking trails, the park is home to many forms of plants and wildlife.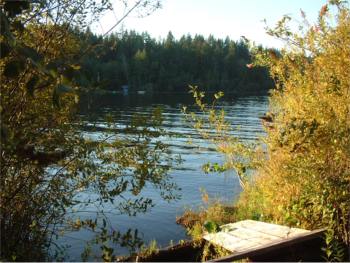 Crescent Lake Park
14404 Talmo Dr. NW, Gig Harbor.
2 acres, on Crescent Lake, hiking trails, undeveloped.

This park offers a small network of established trails, with some primitive paths leading to the shore of lake Crescent.

The main trail winds through a lush grove of alder, vine maple, fir & cedar trees, surrounded by green moss and a carpet of sword ferns. The trail ends on Crescent Valley Road, near 140th St NW.

From Highway 16, take Burnham Dr. exit, and go East on Borgen Blvd. Follow to Peacock Hill Rd, and turn left. At 144th St. NW, turn right, and follow to Crescent Valley Rd. NW. Turn left and follow to 160th St NW, and turn right. Turn right again on 14th Ave NW, and right on Cresce... Read More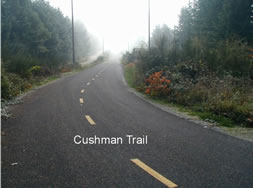 Cushman Powerline Trail
The Cushman Powerline Trail is approximately 2 ˝ miles of non-motorized public trail from 14th Ave NW & 28th St NW to the Kimball Drive Park and Ride Lot in Gig Harbor.

The trail occupies the land adjacent to or under the Cushman Power Line paralleling Hwy 16. The 16 foot wide paved asphalt pedestrian route is a haven for walkers, roller bladers and bicyclists. A trailhead with parking for 12 cars is located at 14th Ave NW.

The Gig Harbor Rotary Club has assisted Pierce County and the City of Gig Harbor in providing trail improvements such as bike racks, benches and picnic tables. Plans are in place to extend the trail further north toward Purdy in the future.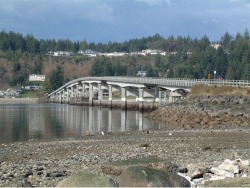 Fox Island Boat Launch
2607 Fox Island Bridge Road.
This popular site is used for boat launching and is also one of the best places to watch the sun set behind the Olympic Mountains.

With very little available space for parking get there early for the best spots.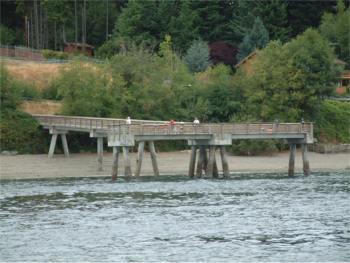 Fox Island Fishing Pier
1453 Ozette Drive, on the south end of Fox Island.
The ''Fox Island Concrete Pier'' is a great fishing spot, located on the Eastern tip of Fox Island.

This unique fishing pier was built by the Department of Fishing and Wildlife and managed by the Pierce County Parks Department. Comprising a beautiful accessible fishing dock with paved pathway and handrails for safety in a picturesque setting. Plenty of parking is available. Unimproved trail to beach.
There is a small fee required for this day use site.

To get there, follow signs from SR-16 to Fox Island. Cross the Fox Island bridge, and follow Island Blvd. to 9th Avenue. Turn right, and take the next left on Kamus. Veer right o... Read More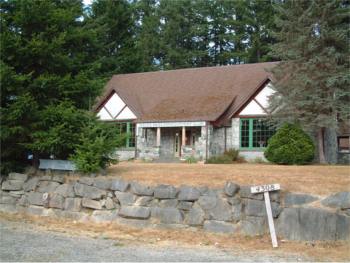 Hale Passage Community Center
3507 Ray Nash Dr. NW, Gig Harbor.
Hale Passage Community Center in Gig Harbor offers a unique setting for meetings, classes and social gatherings with its rustic building constructed in 1938, Hale Pass CC has a small kitchen and a room that holds about 50 people with hardwood floors and rustic wood paneling. It could be the getaway you are looking for. 

Outside you'll find a large covered area, 1 small ball diamond (aka Arletta Playfield), 2 outdoor tennis courts and an open field to accommodate group games and activities, and meeting rooms. 
For rental or reservation information, please call (253)798-4176.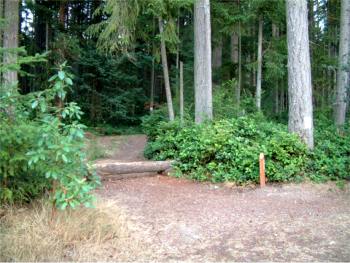 McCormick Forest Park
Sehmel Dr. & Bujacich Rd NW
This is a great hiking area, near the Burnham Drive exit off Highway 16. A large network of foot trails, bicycle or horse trails winds around McCormick Creek.

The park is a 122 acre natural area containing old growth trees, abundant wildlife, and over 3 miles of trails. Some of the trails wander through the old growth forest while others offer views down into the McCormick Creek canyon. The park is located on Bujacich Road, across from the Fire District #5 Headquarters.

Parking is alongside Bujacich Rd NW, near each of the three trailheads. The main entrance is across the street from Fire District 5 Headquarters.

To get there, take the Burnham Drive ... Read More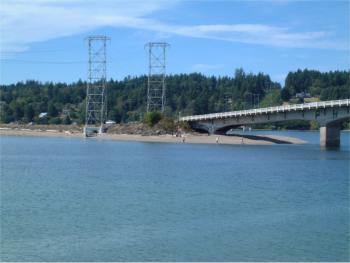 Purdy Sand Spit
Goodrich Dr NW and SR 302, Purdy.
7.5 acres, salt water beach front, boat launch, undeveloped.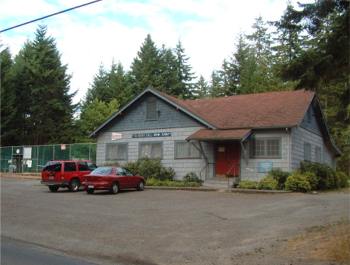 Rosedale Playfield & Tennis Courts
86th Ave NW & Rosedale St, Gig Harbor.
2 acres, across from Templetons store.
1 fenced soccer field,
1 softball diamond,
2 outdoor tennis courts,
2 half-court basketball courts.

Community center adjacent to tennis courts, available for rentals.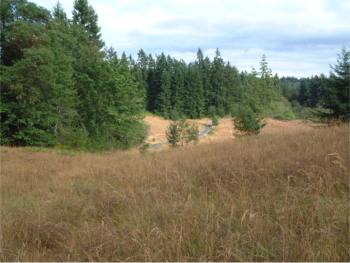 Sehmel Homestead Park
78th Ave. NW & Sehmel Dr. NW
The Sehmel Homestead Park site is situated on a 98-acre parcel at the southeast corner of 78th Ave. NW and Sehmel Dr. NW in the Swede Hill area, only minutes north of Downtown Gig Harbor.

Appreciated for its beautiful meadow, naturalistic pond, wetlands, and forest, this site has long been recognized as a great area to accomodate a variety of cultural and recreational activities to serve the Greater Peninsula region.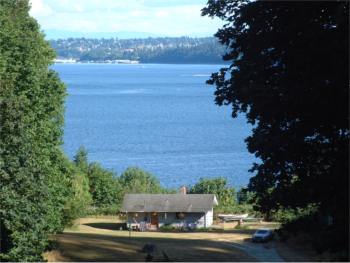 Sunrise Beach Park
10015 Sunrise Beach Dr NW, Gig Harbor.
Undeveloped 82 acre scenic site in the Peninsula area with over 2,400 feet of waterfront on Colvos Passage with walking trails and a popular diving destination. There are forest paths and steep trails with views of Mount Rainier and the water. This neighborhood beach park just outside Gig Harbor has a viewpoint trail and beach that continue down Sunrise Beach to the parking field.

How to Get There: From I-5 take exit 132 (SR 16 west, Gig Harbor). Follow SR 16 west over the Tacoma Narrows Bridge. Go 3.7 miles to Gig Harbor and the take the Wollochet Drive exit. Go to the T junction at Harborview Drive and turn left, staying on Harborview as it veers ... Read More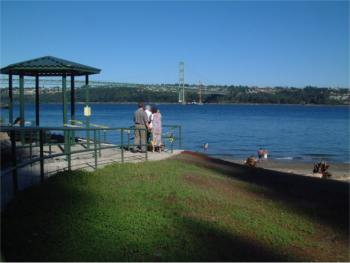 The Narrows Park
1600 Lucille Parkway, Gig Harbor.
This ''off the beaten path'' location is undeveloped open space with 1,000 feet of waterfront on a 36 acre site. The site is right on the water with a spectacular view of the bridge and the Sound.